BTS ELEC - ELECTROTECHNIQUE
2 years apprenticeship |

RNCP 35346



The advanced technician in electrical engineering carries out his activities in the study, implementation, use and maintenance of electrical equipment using both strong and weak currents.
It operates in the industrial production, tertiary, housing, transport and distribution of electrical energy sectors such as :
Industrial equipment and control
The production and transformation of energy
Automation and technical management of the building
Industrial production automation
The distribution of electrical energy
Electrical installations in the tertiary sector
Public facilities
Industrial refrigeration, food processing and mass distribution
Technical services
Transportation (vehicles and infrastructure).
These activities require related knowledge to understand processes in the fields of mechanics, hydraulics, pneumatics, thermics, electronics, industrial computing and optics.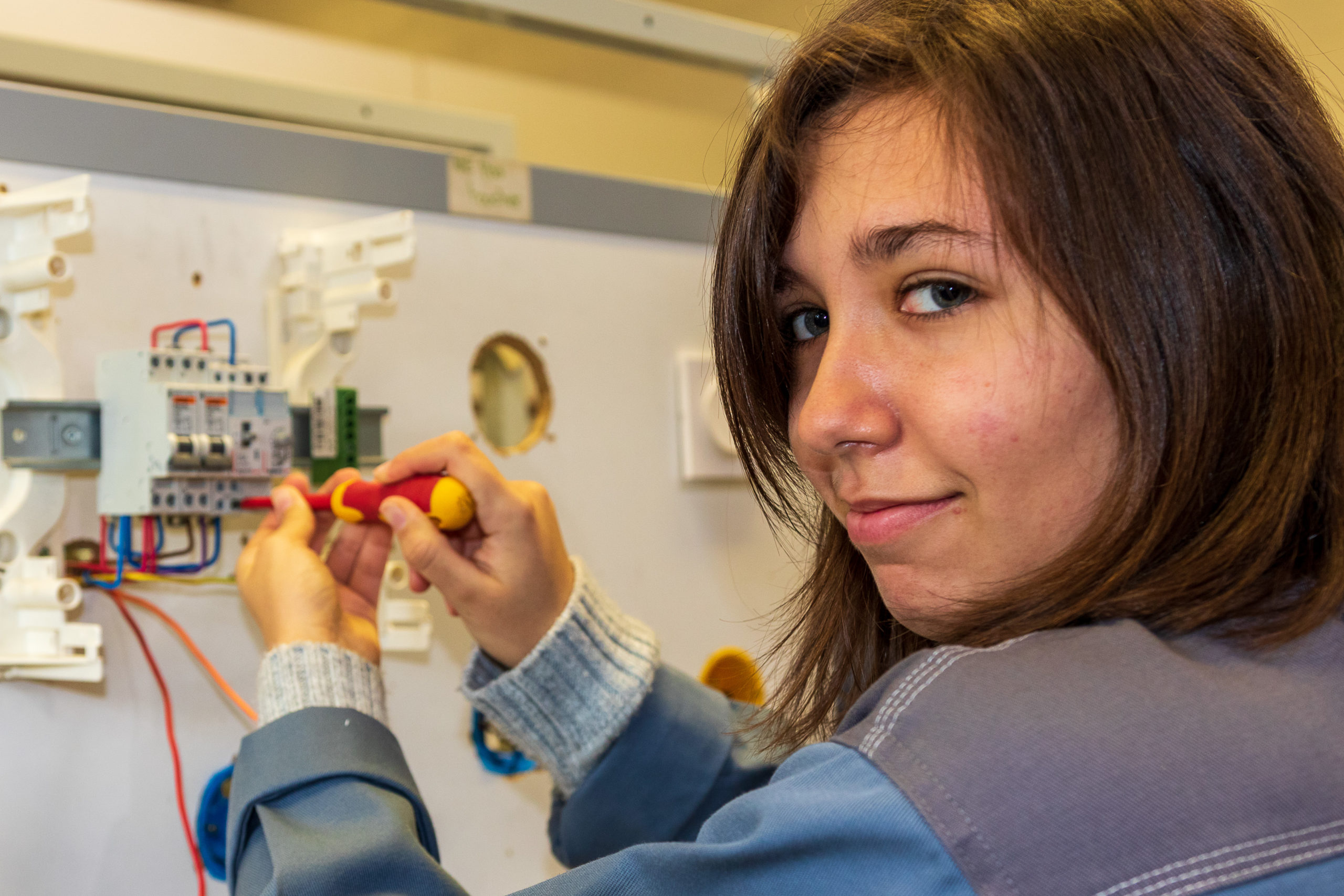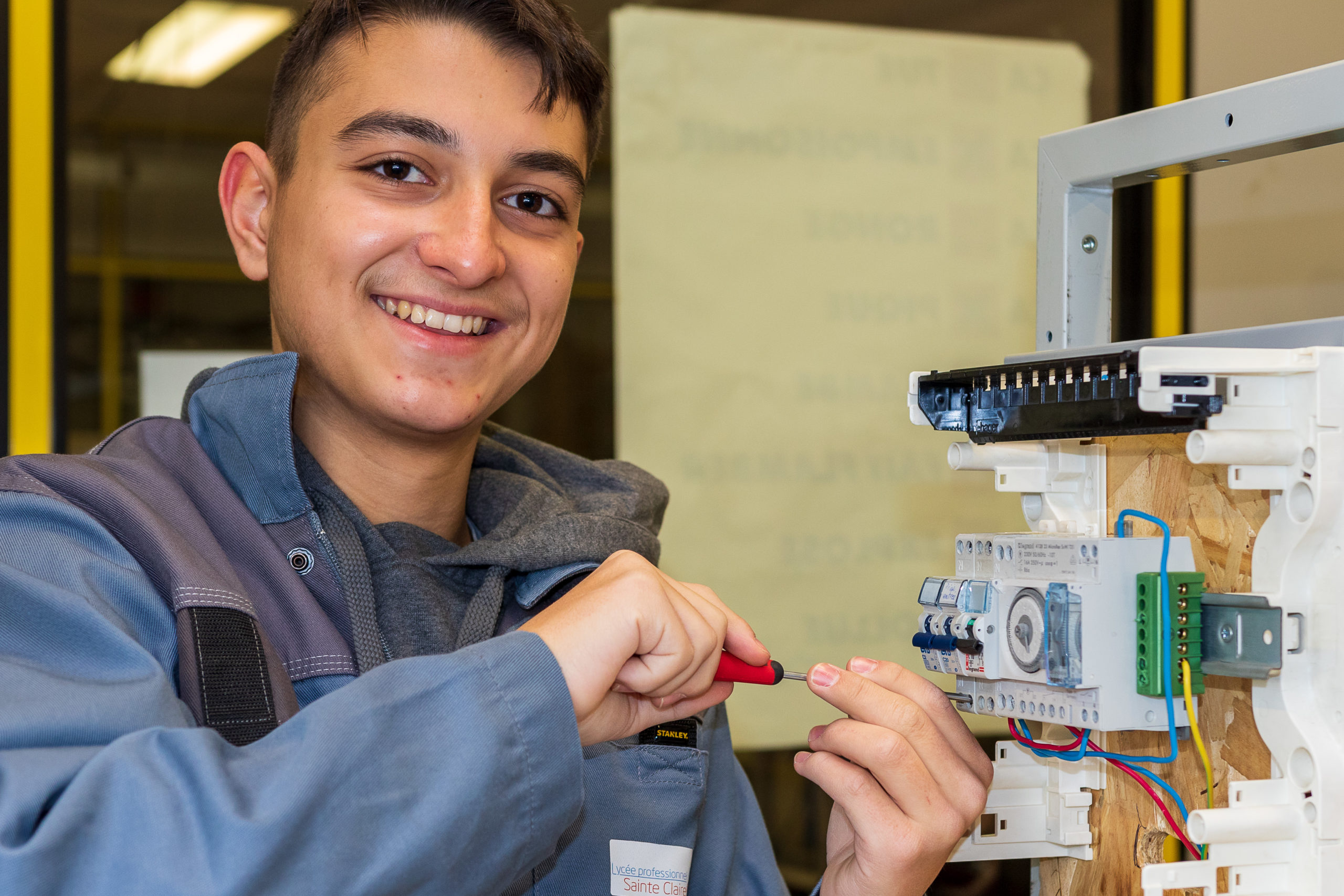 Target audience & Prerequisites

Young person under 30 years old

Employee

Employee in retraining

Job seeker

Holder of one of the criteria:
BAC STI option electrical engineering.

BAC with work experience

Have 3 years of professional experience in the targeted sector of activity
SCHOOL : Pre-admission after validation of the PARCOURSUP file according to the prerequisites stipulated on the platform, final admission upon signature of the apprenticeship or professionalization contract.
EMPLOYEE/JOB SEEKER: After an individual interview, validation of prerequisites and study of financing possibilities.
The training is available throughout the school year subject to a study of the academic file.
Training accessible to people with disabilities after a personalized study of the necessary accommodations.

Training is also available in a modified and/or lighter course for holders of an equivalent diploma in another specialty.
Duration and cost of the training *

Training under an apprenticeship contract
Duration: 2 years │ 675 hours of training per year
Alternation : 2 sem. in a company | 2 sem. in a training center
Cost : 10800€ paid by the OPCO. Remainder to be paid by the apprentice: 0€.
Duration and alternation are indicative and can be adjusted according to the company's needs and the learner's prerequisites.
Opportunities, professions, jobs

Depending on the company, the senior technician in electrical engineering is required to carry out his activity in different sectors such as :
industrial equipment and control
production and transformation of energy
automatisms and technical management of the building
industrial production automation
distribution of electrical energy
electrical installations in the tertiary sector
public facilities
industrial refrigeration, food processing and mass distribution
technical services
transportation (vehicles and infrastructure)
The types of jobs available are:
Technician in charge of design/project
Methods technician - industrialization - goods production
Site technician/team leader - Site manager
Test Technician/Commissioning and Testing Manager
Sales technician / Agency technician
Training or customer information officer
Business manager and/or buyer
Quality Technician/Quality Assurance Manager
Maintenance and service technician
Manager of a small business
General culture and expression: 3 hours

English : 2h

Mathematics : 4h

Construction of material structures applied to electrical engineering: 3h

Applied sciences: 9 hours

System tests: 6h


Electrical engineering : 8h
Pedagogical and technical means :
The teaching team is composed of fExpert instructors with at least a 2-year degree and/or at least 5 years of professional experience in the field, professionals in the field, training managers, center directors, work-study advisors, disability advisors, and administrative staff.
The entire training takes place in our 3 technical workshops dedicated to the electrical trades on a total surface of 300m².
A work plan per trainee on a grid to learn the basics of positioning and fixing conduits and equipment, connecting conductors to equipment and protective devices.
12 three-dimensional work spaces are available to learners to finalize the installation and connection in a real tertiary site situation.
9 wiring cabinets are available for the industrial electricity part. Hand and power tools are available.
A computer room equipped with 14 PCs is available for technological research.
A "classic" classroom is also used when necessary.
Learning is measured throughout the course and a skills log is written.
Satisfaction is assessed at the end of the course.
Two vocational tests and one in-course test (CCF) One-off written tests in the general, scientific and technical fields.

Two professional tests:




- An activity report presenting the company and any studies carried out during the first year


- A project: Choice of a technical study with the company and approval by an inter-academic validation committee (carrying out this study in the company with a file and oral presentation)


Assessment during training (CCF) :

English

Expression and communication

Site organization

3 project reviews
Each block of competence is certifying and gives rise to an evaluation and validation. Obtaining all the blocks allows you to obtain the Brevet de Technicien Supérieur.

| | |
| --- | --- |
| Number of participants | 9 |
| Passes Exam | 6 |
| Chess Exam | 3 |
| Abandonments during the course of the journey | |
| Integration into the workforce upon graduation | 4 IVA / 3 FURTHER STUDIES |
Find all the indicators of our training courses on the INSERJEUNES website
Based in Sury-le-Comtal, in the heart of the Forez plain and an employment area in line with the training courses offered, the CFA Sainte-Claire is easily accessible from all over the Auvergne-Rhone-Alpes region thanks to the important interurban transport network of the Loire.
You will follow your training in the heart of 4500m² of technical platforms for professional teaching, the CFA also has a boarding school of 84 places which can welcome young people coming from all over France and a catering service morning-morning-evening of self-service type and cafeteria.
The course is based on teaching methods centered on individualization.
We choose a pedagogical strategy that aims to :
To individualize courses by offering each person a personalized course,

To develop autonomy by making our trainees actors of their learning,

Develop a technological culture, integrating all components, including those related to safety at the workstation,

Develop professional attitudes, methods and rigor.

Individualized course phases and case studies are validated by the referent trainer through collaborative work in small groups.

The practical phases are evaluated individually by the referent trainer who records the results in a portfolio of skills.

Supervised times on TD and TP are also planned to prepare the title

A computer room is available for the constitution of the internship report and the activity report in the company), necessary to pass the BTS ELEC.
Block number and title
List of skills
Evaluation methods
RNCP4497BC01

Study of an industrial technical system: pre-study and modeling

- Choose and justify a technical solution (modeling and sizing)

RNCP4497BC02

Study of an industrial technical system: design and industrialization

- Analyse a file
- Design a technical solution (choice of technological solutions)

RNCP4497BC03

Industrial technical project: presentation of the project

- Interpret the customer's request
- Make a diagnosis
- Participate in a project management (objectives and constraints, estimation of resources, costs and deadlines, justification of the selected solutions, follow-up of the realization, animation of the project team)
- Elaborate technical, communication and training files
- Realize and put into service a work, an equipment or a product

RNCP4497BC04

Site organization

- Design a procedure
- Determine and plan the different tasks of realization and/or maintenance
- Intervene on an installation
- Control the conformity of a product
- Exercise a hierarchical responsibility

RNCP4497BC05

Technician internship report in a company

- Write a summary document
- Communicate in a way that is adapted to the situation

RNCP4497BC06

General culture and expression

Apprehend and produce a written message
- Respect the constraints of the written language
- Synthesize information : fidelity to the meaning of the documents, accuracy and precision in their comprehension and their connection, relevance of the choices made according to the problem posed and the problematic, coherence of the production
- Answer in an argued way to a question posed in relation to the documents proposed in reading
Communicate orally
- Adapt to the situation : control of the constraints of time, place, objectives and adaptation to the addressee, choice of appropriate means of expression, taking into account the attitude and questions of the interlocutor(s)
- Organise an oral message: respect of the subject, internal structure of the message

RNCP4497BC07

Foreign language

- Listening comprehension (CEFR level B2)
- Oral production and interaction (CEFR level B2)

RNCP4497BC08

Mathematics

- use sources of information,
- find a strategy adapted to a given problem,
- implement a strategy
- communicate in writing or orally.
- Modules covered: complex numbers, numerical sequences, differential and integral calculus, numerical series, Fourier series, Laplace transform, probability calculus
This form was updated on January 16, 2023