BAC PRO Trades in Electricity and its Connected Environments| rncp25353
1st year on the initial route
Apprenticeship possible in 2nd year

The holder of the vocational baccalaureate "Trades in Electricity and its Connected Environments" implements and operates electrical installations and communication networks in the fields of production, transport, distribution, transformation and control of electrical energy.
He/she is required to manage activities related to the :
Preparation of the operations of realization, commissioning, maintenance;
Realization;
Commissioning;
Maintenance;
Communication.

His job will not be limited to electricity but will also concern the whole field of connectivity, networks and home automation.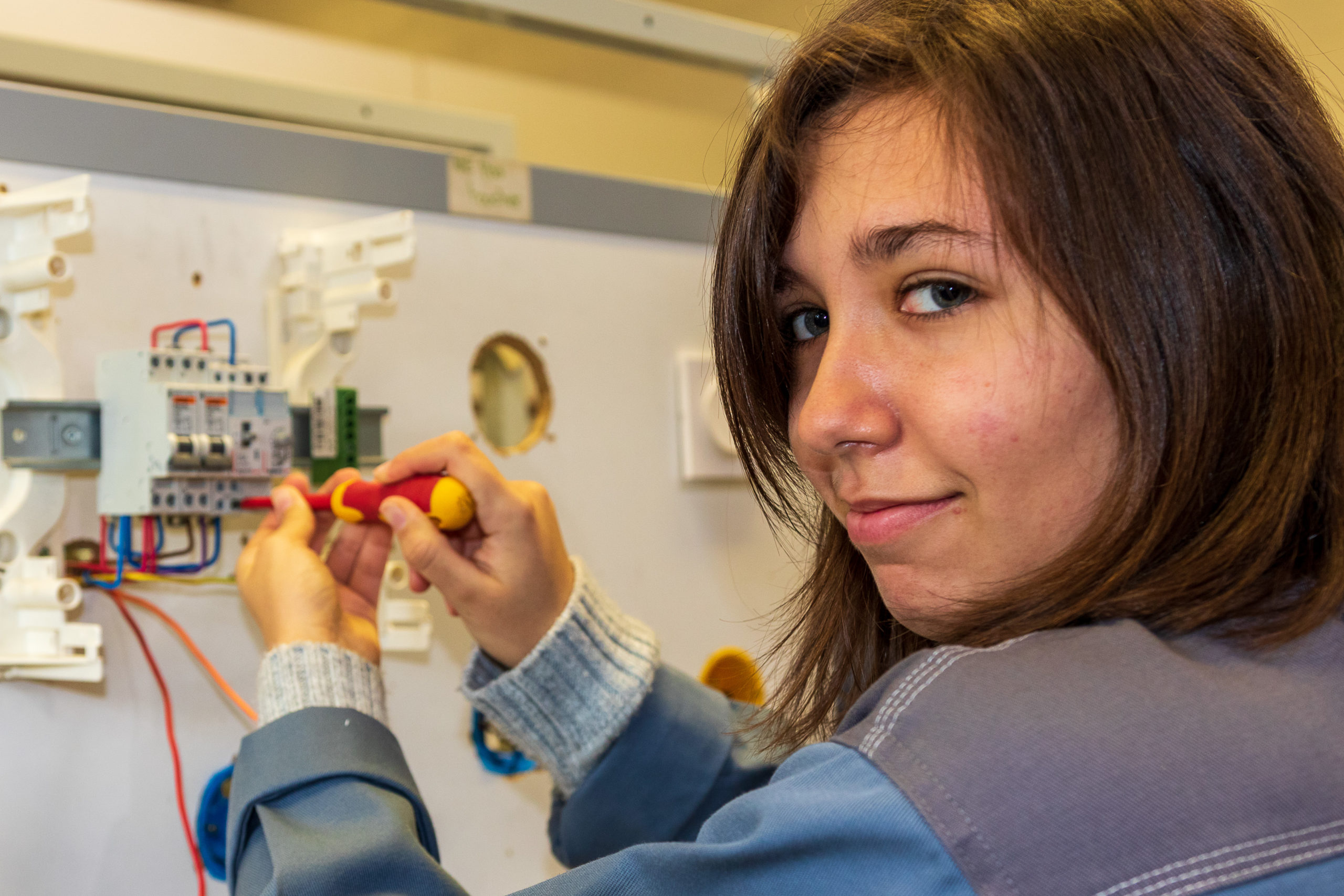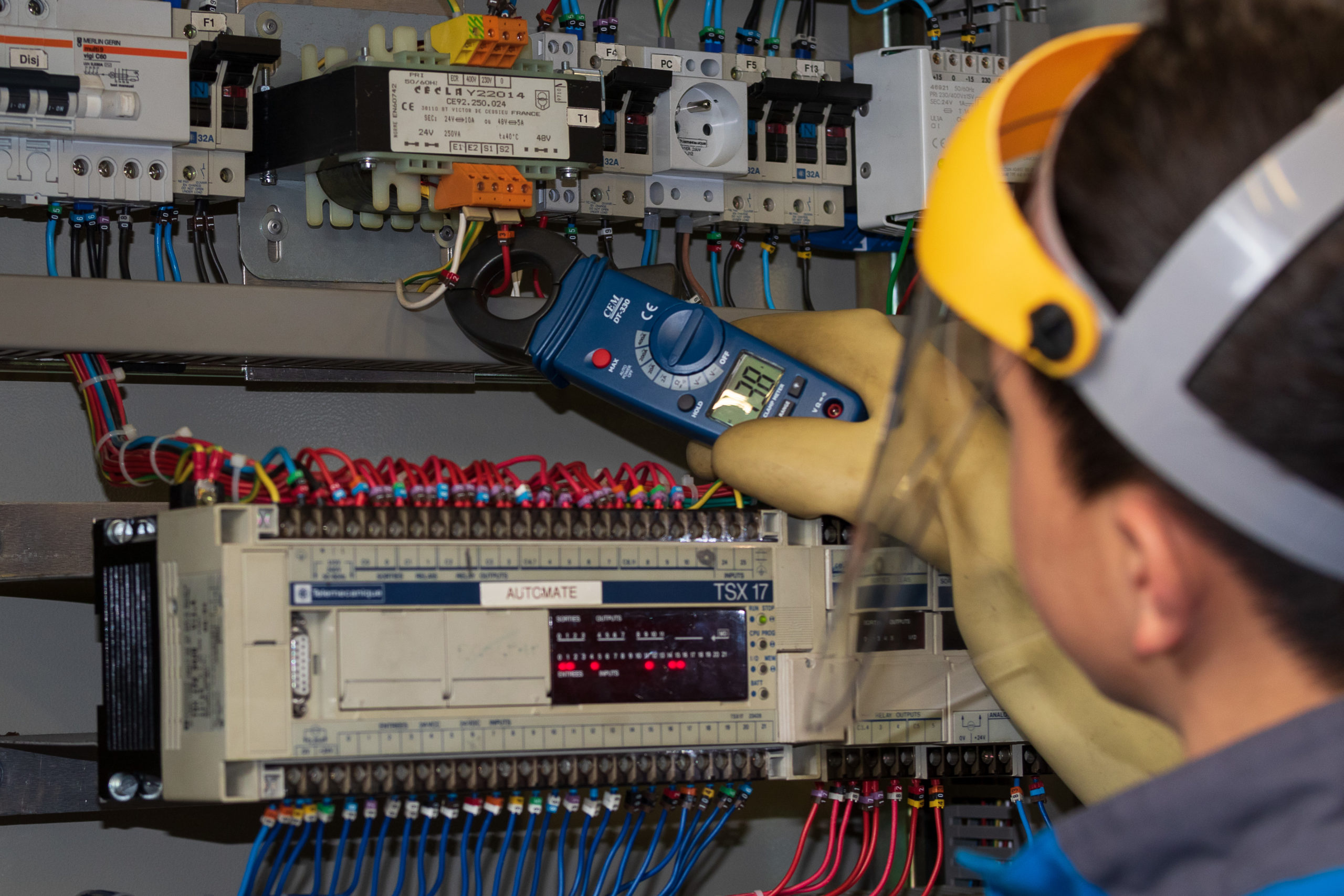 Target audience & Prerequisites

3-year baccalaureate: young people from 3ème
2-year baccalaureate: young people from a second professional year in the same field
1-year baccalaureate: young people from a first professional year in the same field
For the 2-year or 1-year baccalaureate, other possibilities studied on a case-by-case basis and subject to exemption 
Admission after study of the application and interview for initial or apprenticeship training, final admission upon signature of the apprenticeship or professionalization contract for apprenticeship training

The training is available throughout the school year subject to a study of the academic file.
Training accessible to people with disabilities after a personalized study of the necessary accommodations.

Training is also available in a modified and/or lighter course for holders of an equivalent diploma in another specialty.
Duration and cost of the training

Initial training :

Duration: 3 years │ 490 hours of training per year
Internship : 22 weeks

Apprenticeship training :

Duration: 3 years │ 1850 hours of training over 3 years
Alternation : 1 sem. in a company | 1 sem. in a training center
Cost : 10500€ paid by the OPCO. Remainder to be paid by the apprentice: 0€.
Duration and alternation are indicative and can be adjusted according to the company's needs and the learner's prerequisites.
Opportunities, professions, jobs

Sectors of activity :
Sectors of activity of the building industry (residential, tertiary, industrial), industry, agriculture, services and infrastructures.
Type of jobs available:
- electrician,
- electrician,
- electrician craftsman,
- electrician installer,
- home automation installer,
- computer network cable technician,
- fiber optic technician, network, copper,
- electrician,
- panel builder,
- electrician integrator,
- maintenance technician,
- repair technician
Further study:
BTS Electricity
BTS Technical assistance for engineers
BTS Design and production of automatic systems
BTS Fluids, Energy, Home Automation
MC Renewable Energy
The contents and pedagogical objectives are in accordance with the National Education referential.
Access is individualized and personalized according to the results of the positioning phase.
Professional and technological field
- Electrical engineering: fundamental laws of direct and alternating current, electrical machines (motors, transformers); calculations and measurements for sizing and choosing components.
- Energy: energy management (high voltage, low voltage); the various terminal applications including motors, electrothermics by resistance, radiation, induction, lighting; switches and modulators, in building and industry.
- Management of electrical energy metering, energy intelligence.
- Renewable energy, photovoltaic, charging station for electric and hybrid vehicles.
- Communication and information processing: know and know how to install communicating installations (Voice Data Images, GTB, video surveillance ...).
- Communicating public lighting, eco-neighborhoods.
- Quality, safety and regulations: knowledge of standards and regulations.
- Industrial installations (power supply and protection, automation and control, sensors, motors, cylinders, lighting and heating systems).
- Autonomous and on-board energy systems (boats, planes, trains)
General areas
Mathematics, Physical Sciences, Economics and Management, French, History/Geography, Applied Arts, Modern Language
Pedagogical and technical means :
The training takes place in our 3 technical workshops dedicated to the electrical trades on a total surface of 300m².
A work plan per trainee on a grid to learn the basics of positioning and fixing conduits and equipment, connecting conductors to equipment and protective devices.
12 three-dimensional work spaces are available to learners to finalize the installation and connection in a real tertiary site situation.
9 wiring cabinets are available for the industrial electricity part. Hand and power tools are available.
A computer room equipped with 14 PCs is available for technological research.
A "classic" classroom is also used when necessary.
Learning is measured throughout the course and a skills log is written.
The evaluation of satisfaction is carried out at the end of the course
The diploma is validated by passing the BAC exams at the end of the senior year.
| | |
| --- | --- |
| Number of participants | 11 |
| Passes Exam | 10 |
| Chess Exam | 1 |
| Abandonments during the course of the journey | 0 |
| Integration into the workforce upon graduation | 4 |
Find all the indicators of our training courses on the INSERJEUNES website
Based in Sury-le-Comtal, in the heart of the Forez plain and an employment area in line with the training courses offered, the CFA Sainte-Claire is easily accessible from all over the Auvergne-Rhone-Alpes region thanks to the important interurban transport network of the Loire.
You will follow your training in the heart of 4500m² of technical platforms for professional teaching, the CFA also has a boarding school of 84 places which can welcome young people coming from all over France and a catering service morning-morning-evening of self-service type and cafeteria.
The course is based on teaching methods centered on individualization.
We choose a pedagogical strategy that aims to :
To individualize the courses by proposing to each person a personalized course,
To develop autonomy by making our trainees actors of their learning,
To develop the technological culture, by integrating all the components, including those related to the safety on the workstation,
To develop attitudes, methods and professional rigor.
Course phases and individualized case studies are validated by the referent trainer through collaborative work in small groups.
The practical phases are evaluated individually by the referent trainer who records the results in a portfolio of skills.
Supervised time on TD and TP are also provided to prepare the title.
A computer room is available for the constitution of the internship report and activity in the company, necessary for the passage of the Diploma.
Block number and title
List of skills

RNCP25353BC01

U2 : Preparation of an operation

Analyze the conditions of the operation and its context.
Define an installation or an equipment using pre-established solutions.
Use digital tools in the professional context.
Complete the documents related to the operations.

The evaluation methods are described in the annexes of the decree defining the diploma relating to evaluation (see in particular the examination regulations and the test definitions)

RNCP25353BC02

U31 : Realization of an installation

Organize the operation in its context.
Carry out an installation in an eco-responsible manner.
Communicate between professionals on the operation.

The evaluation methods are described in the annexes of the decree defining the diploma relating to evaluation (see in particular the examination regulations and the test definitions)

RNCP25353BC03

U32 : Delivery of an installation

Check the characteristic values of the installation.
Adjust and set the parameters of the installation's equipment.
Validate the operation of the installation.
Communicate with the customer/user about the operation.

The evaluation methods are described in the annexes of the decree defining the diploma relating to evaluation (see in particular the examination regulations and the test definitions)

RNCP25353BC04

U33 : Troubleshooting an installation

Diagnose a malfunction.
Replace an electrical equipment.

The evaluation methods are described in the annexes of the decree defining the diploma relating to evaluation (see in particular the examination regulations and the test definitions)

RNCP25353BC05

U34 : Economics and management

- Identify the characteristics of the environment and the sector of his professional activity
- Discover and master the basics of management and professional communication

The evaluation methods are described in the annexes of the decree defining the diploma relating to evaluation (see in particular the examination regulations and the test definitions)

RNCP25353BC06

U35 : Prevention, health, environment

- To carry out an analysis of situations by applying the problem-solving approach
- To analyze a professional situation by applying different approaches: analysis by the risk, by the work, by the accident
- To mobilize scientific, legal and economic knowledge
- To propose and justify the adapted preventive measures
- To propose actions allowing to intervene effectively in front of an emergency situation

The evaluation methods are described in the annexes of the decree defining the diploma relating to evaluation (see in particular the examination regulations and the test definitions)

RNCP25353BC07

U11 :Mathematics

- Search, extract and organize information.
- Propose, choose and carry out a method of resolution.
- Experiment, simulate.
- Criticize a result, argue.
- Give an account of an approach, of a result, orally or in writing.

The evaluation methods are described in the annexes of the decree defining the diploma relating to evaluation (see in particular the examination regulations and the test definitions)

RNCP25353BC08

U12 : Physical and chemical sciences

- Search, extract and organize information.
- Propose, choose, execute a method of resolution or an operating protocol while respecting safety rules.
- Experiment, simulate.
- Criticize a result, argue
- Give an account of an approach, of a result, orally or in writing.

The evaluation methods are described in the annexes of the decree defining the diploma relating to evaluation (see in particular the examination regulations and the test definitions)

RNCP25353BC09

U4 : Modern language

Competences of level B1+ of the CECRL
- To express oneself orally in a continuous way
- To interact in a foreign language
- To understand a written document written in a foreign language

The evaluation methods are described in the annexes of the decree defining the diploma relating to evaluation (see in particular the examination regulations and the test definitions)

RNCP25353BC10

U51 : French

- Entering into oral exchange: listening, reacting, expressing oneself
- Entering into written exchange: reading, analyzing, writing
- Becoming a competent and critical reader
- Confronting knowledge and values to build one's cultural identity

The evaluation methods are described in the annexes of the decree defining the diploma relating to evaluation (see in particular the examination regulations and the test definitions)

RNCP25353BC11

U52 : History, geography and moral and civic education

- Understand the diversity of societies and the richness of cultures
- Understand the issues related to sustainable development
- Identify the issues and constraints of globalization
- Identify civil, political, economic and social rights and duties

The evaluation methods are described in the annexes of the decree defining the diploma relating to evaluation (see in particular the examination regulations and the test definitions)

RNCP25353BC12

U6 : Applied arts and artistic culture

- Identify the essential characteristics of works, products, urban spaces or visual messages
- Situate a work or a production in its creative context
- Master the basics of the practice of traditional and computer graphic tools

The evaluation methods are described in the annexes of the decree defining the diploma relating to evaluation (see in particular the examination regulations and the test definitions)

RNCP25353BC13

U7 : Physical and Sports Education

Level 4 competences of the reference frame of expected competences
- Achieve a maximum motor performance
- Move around while adapting to varied and uncertain environments
- Perform a physical performance with an artistic or acrobatic aim
- Conduct and control an individual or collective confrontation
- Respect the rules of collective life and assume the different roles linked to the activity

The evaluation methods are described in the annexes of the decree defining the diploma relating to evaluation (see in particular the examination regulations and the test definitions)
This form was updated on January 16, 2023